Everything You Need to Know about LED Signs
Often called electronic message centers, LED signs are a versatile way to easily get a company's message out. Digital sign content is viewable in full-color and can easily be changed on the fly making it an ideal advertising medium.
When you're looking for signage for your business that lets you say more than just a business name and hours, LED signs are the go-to choice.
Made up of thousands of LED bulbs, LED signs can display pictures, videos and even custom slides. Outdoor LED displays are also featured on highways to warn drivers on road conditions, construction delays and other crucial information in a way that drivers cannot easily overlook.
If you want to ensure your company's message commands your customer's attention, consider an electronic sign with LED. In this article, we'll cover everything you need to know about this powerful and effective outdoor advertising method.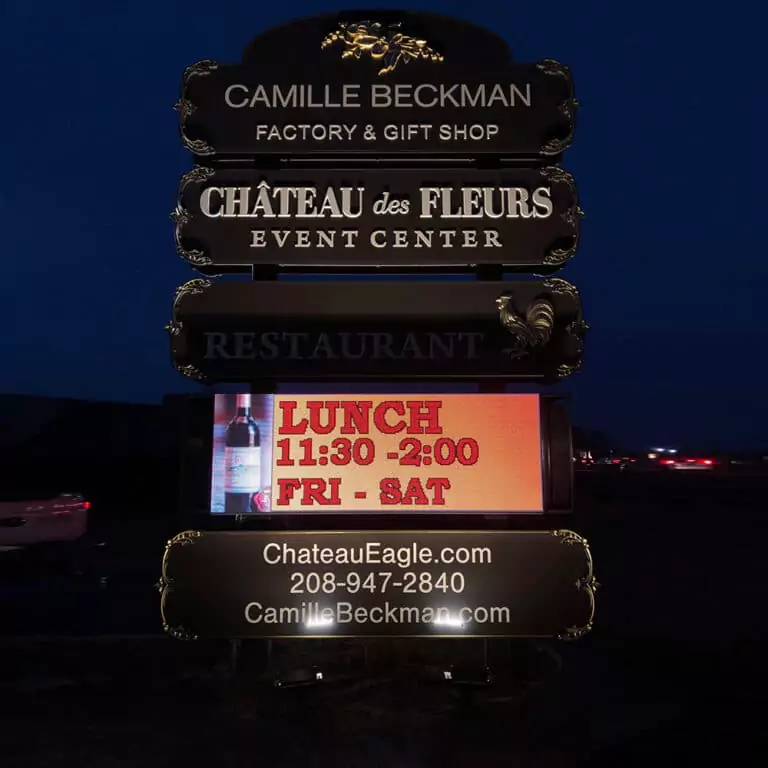 Electric Signs – a brief background
Before the twentieth century, signs were really only visible in day light. Once illuminated signs hit the market, businesses quickly picked up on the trend to light up the night with their company name. The first to do so was the Packard Car Company who paid $24,000 in the 1920's for the first neon sign ever seen on this side of the Atlantic.
It wasn't until the 1960's that the LED was developed. Before then, tungsten bulbs were used, requiring far greater power and size. They emitted far more heat than LED and were not quite as reliable. The first LED's featured infrared light. It was also during this decade that acrylic glass became the common material in outdoor advertising. Not only durable, acrylic glass has the ability to distribute light evenly.
Red, Blue, Green and All The Colors In Between
In 1962, while working as an engineer at General Electric, a man named Nick Holonyak created the first LED with visible red light. After red, the next bulbs to develop were yellow and green. It wasn't until 1980 that the blue bulb was invented, so the first electronic message boards were monochromatic.
Like the television, the LED bulb uses only the primary colors, red, green and blue, to create all its imagery. The combination of these colors can conceive any color of the rainbow, including white light. In fact, LED Displays can actually create 281 trillion different colors. Not only polychromatic, modern LED message boards can be used to display both pictures and video.
How LED Signs Are Made Today
Over the years, digital signs have become increasingly efficient in energy consumption and size. LED displays today use two different types of bulbs to create their images: the DIP and SMD.
DIP stands for "Dual In-line Package". The first dual-in-line package was invented by Bryant "Buck" Rogers in 1964 while working for Fairchild Semiconductor. The rectangular shape allowed integrated circuits to be packaged more densely than the previous rounded design.
DIPs were the mainstream of the microelectronics industry in the 1970s and 1980s. Their use has declined since 2000, with the emergence of SMD packages. DIP bulbs are still used in some cases, since they emit a higher brightness than the SMD bulbs, however, they use more energy and generate more heat than SMD bulbs.
SMD stands for "Surface-Mount Diode". Also referred to as SMT, for "Surface-Mount Technology", these bulbs were developed as the demand for the design of smaller electronic devices came about. SMD bulbs contain all three colors within a single bulb so that every bulb is one pixel or LED. SMD bulbs are soldered directly onto the circuit board of an LED sign, so they take up less space than DIP bulbs and release far less heat.
How to Ensure Your Digital LED Sign is Crystal-Clear
"Pixel pitch" is an imporant key term in regards to electronic message boards. It is the primary factor in the resolution of an LED sign. The higher the resolution, the greater the clarity of your display. The greater the clarity, the more likely your customer will be able to effectively read your marketing messaging.
Pixel pitch refers to the distance between pixels on an LED display. Pixel pitch is measured from the center of one pixel to the center of the adjoining pixel. The smaller the pixel pitch, or the closer in distance the bulbs are, the higher the resolution or clarity of the display.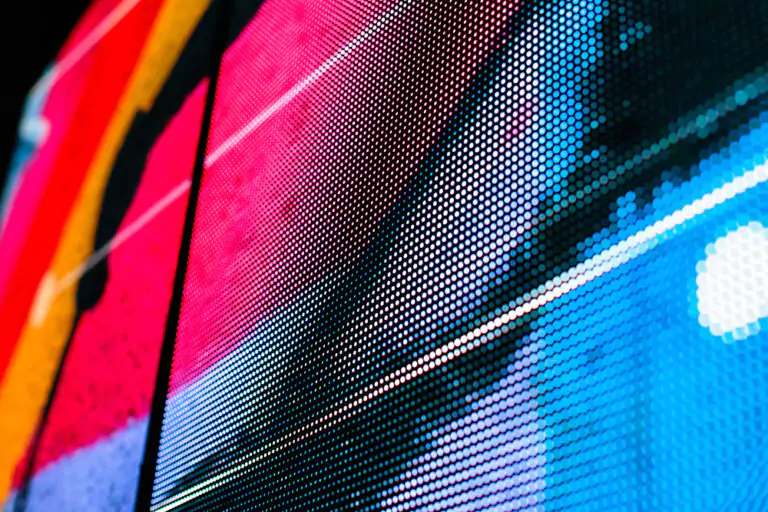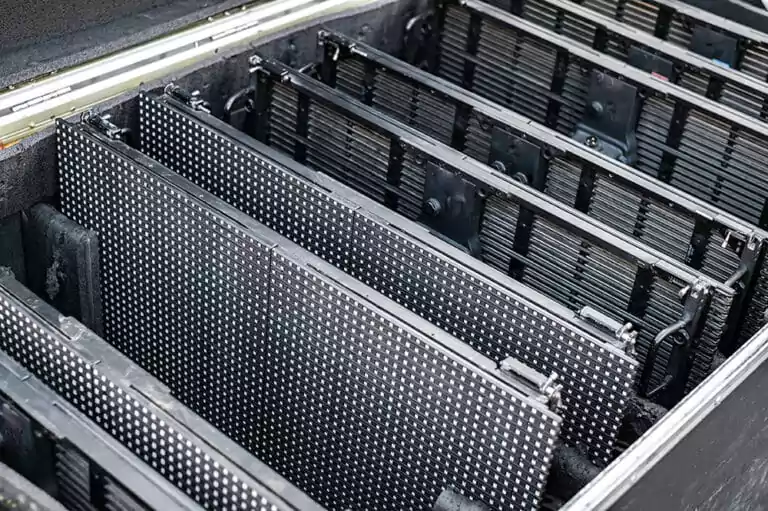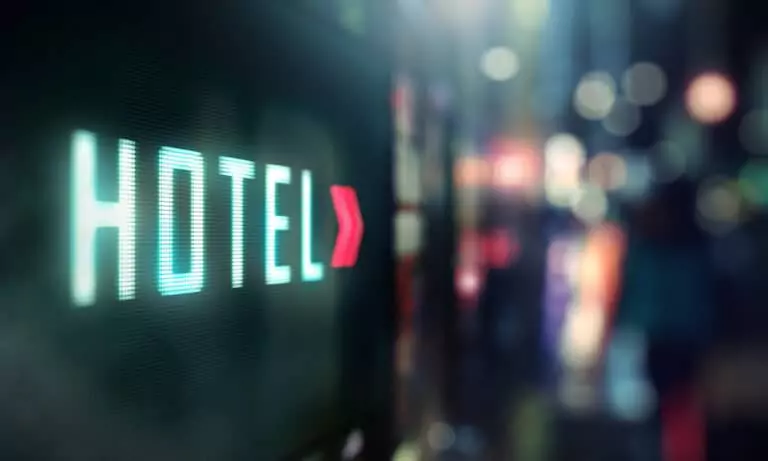 The Most Important Factors For a Durable Digital Sign
A PCB, or printed circuit board, connects the electronic components on an LED sign. For an SMD LED sign, the bulbs are mounted directly on the PCB. The more layers a PCB contains, the more durable and lasting it is. Typically, a PCB is 2 to 3 layers thick.
Standard electronic signs are made up of several modules, containing the PCB fitted with the LED bulbs. Modules are connected to form the display in any size. The LED modules are encased in a metal cabinet, made from a durable metal, such as aluminum. To maintain the longevity of the LED bulbs themselves, a cooling unit is required to regulate the temperature of the internal components and prevent bulbs from burning out.
The more advanced LED signs are equipped with a heat sink rather than the standard, a system of fans. A heat sink helps to absorb the heat radiating from the LED display through conduction and more effectively dissipates the heat from the sign. Heat sinks are also composed of aluminum, since aluminum is both long-lasting and conductive.
To protect your investment from the elements, quality outdoor digital signs are engineered to be water and dust-proof. Each digital sign has an IP rating that measures waterproofing and dust resistance. The highest score that an LED sign has achieved is IP68, meaning that the sign functions even if completely submerged in water or covered in dust or pollen particles.
Another factor to include with LED signage is the refresh rate. The higher the refresh rate, the better the image on the screen will appear. The refresh rate of an LED sign can usually be adjusted, but it ranges between manufacturers. By selecting optimal conditions for waterproofing and cooling, a high-resolution LED electronic sign could yield a lifetime of 100,000 hours, more than ten years.
Selecting the Best Size for Your LED Message Board
Once you have a budget in mind, you'll need to select the size of your sign depending on the distance to traffic. Also consider the speed limit for passing cars. How fast the cars are driving will impact how large your sign needs to be. Pixel pitch or resolution will greatly factor into the visibility of your digital sign as well.
The best placement for an electronic sign is on a busy road with heavy traffic, in a location that can be easily seen from many angles and distances. Before installation, it's a good idea to do a quick drive-by of your business to ensure your electronic message board will not be obstructed from view by any powerlines, trees, or other structures. Consider what size and display will be required to truly capture the attention of busy passersby.
What is the ROI for Digital LED Signs?
At this point, you know the features a digital LED sign can have, but what about the bottom line? Are digital LED signs truly effective as marketing tools?
According to the Small Business Administration, they are. Their surveys revealed that businesses using LED technology can expect to see their revenue increase by a minimum of 15% and up to as much as 150%.
According to the Small Business Administration, they are. Their surveys revealed that businesses using LED technology signage can expect to see their revenue increase by a minimum of 15% and up to as much as 150%.
Smart Signs are Becoming The New Norm
The most exciting development to modern digital display signs is that they now feature a smart solution, using cloud software. This means that you can use an app to easily program display messages that you can conveniently change at any time. You can add motion effects like scrolling, create color-changing effects depending on the season, or have custom slides appear.
Tell the story of your business by featuring images of your newest products, customer testimonials or monthly specials. Some companies employ digital signs to let the community know when they're hiring. There's really no limit but your own imagination with the capabilities of a dynamic LED sign. You'll soon have your customers wondering what your sign will say next.
If you have more questions on the potential of LED signage for your business, give us a call.
YOU MIGHT ALSO BE INTERESTED IN THESE ARTICLES