ADA & Handicapped Signage Boise
ADA Signs What You Need to Know
Everything you ever wanted to know about ADA signage including highlights, requirements and more.

Whether they're strategically woven into the surroundings of Boise, Idaho, or they're designed to stand out as warnings, signs are important and practically everywhere we look. From signs that advertise businesses in Meridian, Idaho to those that provide directions within a building or outdoors, instructional signage is a purposefully constructed and important part of daily living.
While reading and following signage seems simple for most, a large percentage of the population was once left out of the equation before 1990. Today, it's clear that warning signs and directional signage that don't take Americans with disabilities into account, make the world a much more difficult and dangerous place to navigate.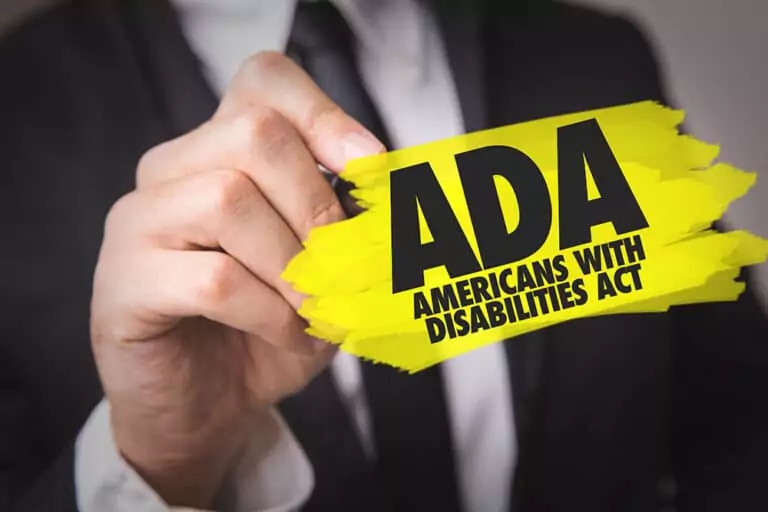 History of the Americans with Disabilities Act
Today, many people are familiar with Braille signs, but this wasn't always the case. The Americans with Disabilities Act was first signed into law in 1990 as the population and government became more aware of the fact that those who couldn't easily read, or access important signs were at a greater disadvantage and overall risk.
Braille signs are just a small fraction of the signage requirements that fall within the parameters of the Americans with Disabilities Act. Under the Americans with Disabilities Act, ADA signs are required in every building that offers access to the public.
Each of these buildings must have the appropriate signage posted to mark specific locations. This includes ADA restroom signs, room identification, and exits.
ADA Signs and Corresponding Requirements
It's easy to assume that ADA signs refer exclusively to traditional braille signs, but the requirements go further. While Braille is a common requirement on ADA signs, raised characters are also expected. This comprehensive combination makes signs tactile and more accessible for all.
ADA signs also require very specific font types, sizes, and text spacing to be compliant with the Americans with Disabilities Act standards. As an example, any raised text is required to be 1/32" above the background of the sign.
From office signs and ADA braille signs to unisex restroom signs, family restroom signs, and ADA parking signs, all business that provide goods and services to the public are expected to properly comply with ADA guidelines. ADA signs are also a requirement for all permanent rooms in public access buildings as well as for stairwells and exits.
The only exceptions to these requirements would be signs that indicate a building address, the company name, and logo or tenant names listed on a building directory or temporary rooms.
The inclusion of proper signage whether it be ADA restroom signs, ADA parking signs, or ADA braille signs falls under the greater umbrella of ADA regulations which is enforced by the Department of Justice. Those that fail to comply with ADA standards could face a penalty of up to $75,000 for the first violation and up to $150,000 for any subsequent violations.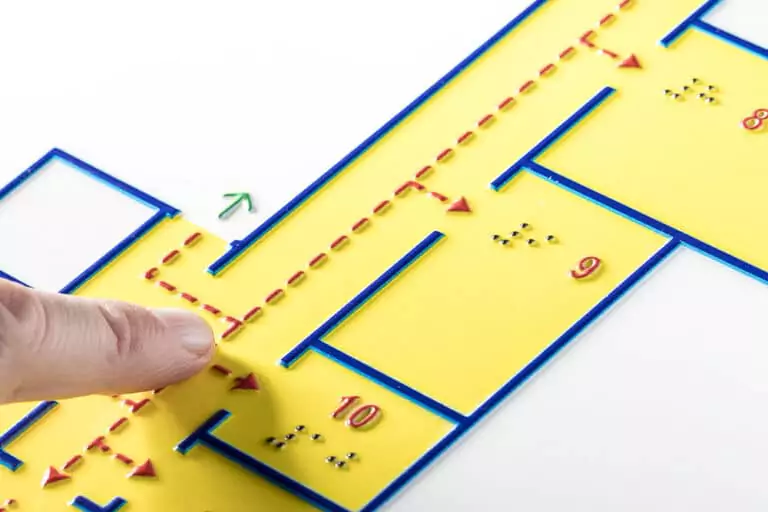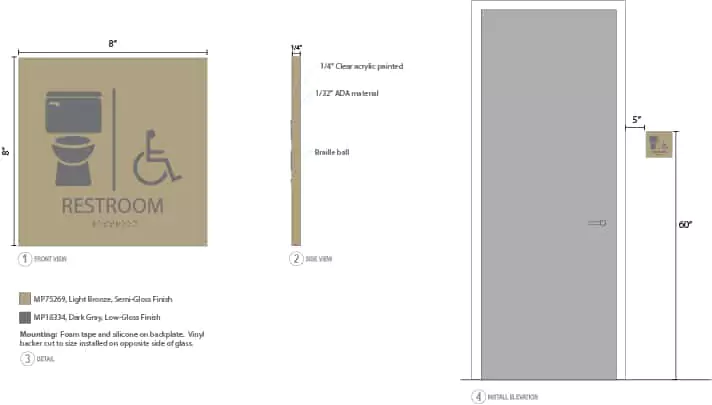 Properly Placing ADA Signs
When it's time to place an ADA sign, there are specific requirements to be aware of. Whether it's family restroom signs, ADA parking signs, unisex restroom signs, or any other type of ADA signage, they must be mounted between 48 and 60-inches from the floor.
ADA signs must always be placed on the latch side of a door to be considered properly installed. When adequate wall space isn't available on the latch side of the door, the sign can then be installed on the nearest adjacent wall. It's important to keep in mind that ADA signs can never be mounted directly to the door.
To be compliant with ADA standards, all ADA signs in Boise, Idaho must have a non-glare surface. Additionally, text and pictograms must be designed with a high contrast of either dark backgrounds and light characters or vice versa for ease of visibility. Braille characters on ADA signs do not need to contrast but can instead be designed as the same color as the background or even fabricated clear. ADA signs are not required to be plain, but alternatively, can be designed with multiple materials and layers and can also include digital photos.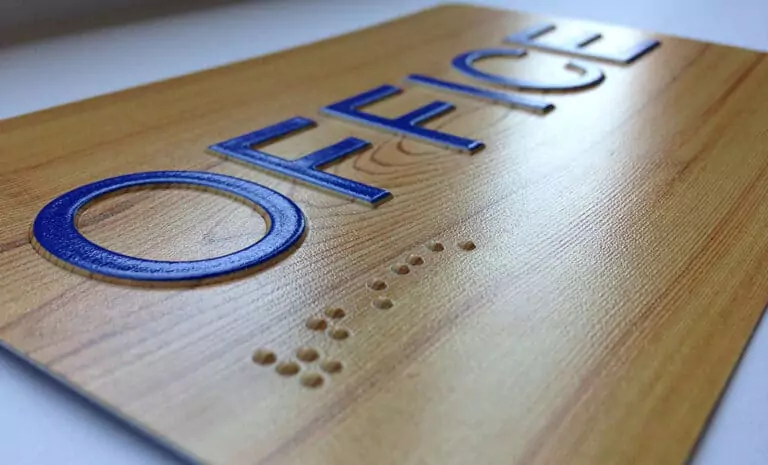 Making the ADA Sign Process Specific and Seamless
If you find yourself in need of ADA signs within the greater Boise or Meridian, Idaho area, the team at Signs2U is here to help. We're proud to be one of only three companies in all of Idaho with the technology and capability to produce ADA, tactile, and Braille signage right in-house!
Our team of professionals is passionate about what we do and the customers we serve. We employ ADA sign designers and fabricators to design and create signs that meet the standards laid out by the federal government.
Our firm is also trained in ADA requirements related to font types, size, spacing, and location specifications for this specific and important type of signage. We take the process of designing ADA signs seriously and understand the role they place in helping everyone enjoy equal accessibility out in the world.
Since opening our doors to the public in 2007, the team at Signs2U has been committed to serving our customers through quality products and innovation standards that come with a personalized touch. Whether your ADA sign needs are for a small local business or a growing corporation, we're here to deliver the products you and your customers deserve.
YOU MIGHT ALSO BE INTERESTED IN THESE ARTICLES