Office and Retail Graphics Boise: Transform Your Business Space
Elevate Your Office and Retail Space with Graphics in Boise
About Window Film & Wall Decals
Use window film at your office or storefront. Vinyl window film is a great way to get your message across. Brand your windows so that customers know exactly what products and services you offer.
Window film provides privacy and UV protection. Film types include perforated vinyl with digital print graphics. Optically-clear and opaque vinyl allow for multiple different effects. Another option is die-cut vinyl. Die-cut vinyl is the perfect choice for logos. It also works well for taglines and store hours.
Privacy can be achieved with etched glass vinyl. This type of vinyl is available in numerous finishes so there is much flexibility in design. Options include dusted or frosted glass. Privacy vinyl can be printed and cut for endless variations.
Wall graphics include printed wall coverings and die-cut decals. Dimensional letters are a great option for reception and lobby areas. Vinyl graphics can be placed on floors and concrete walls.
Signs2U is a 3M Endorsed Architectural installer. We are Idaho's leading installer of 3M Di-Noc architectural film. Di-Noc is available in more than one-thousand styles and can be used to cover many different types of surfaces. It is frequently used in office, hospitality and medical settings to redesign doors, reception desks and architectural features.
Give us a call today to see how window film and wall graphics can help transform your location. Our graphic artists have in-depth experience in creating unique and inspiring wall and window film designs.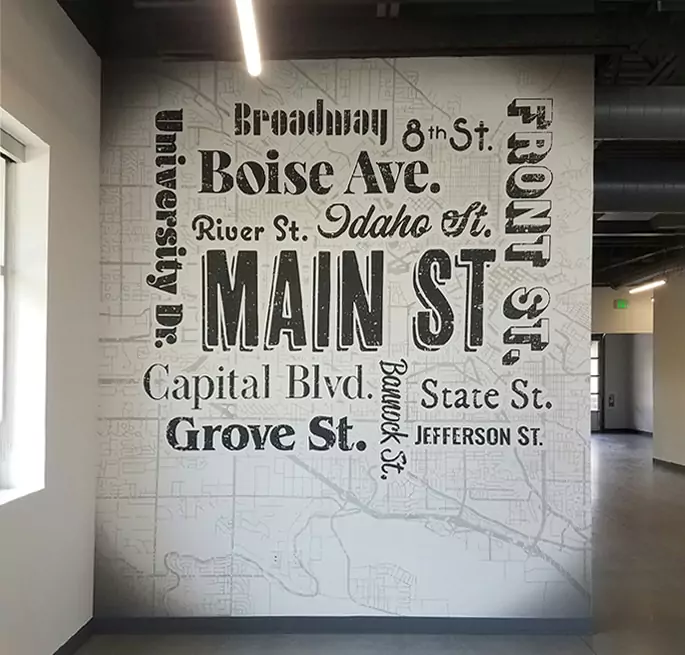 Types Of Window Film & Wall Graphics