LOCAL GRAPHICS COMPANY JOINS NATIONALLY RECOGNIZED
BEST IN CLASS STANDARD - THE ONLY SOUTHERN
IDAHO COMPANY WITH THIS DISTINCTION
BOISE, Idaho November 6, 2019 – Signs2U, Boise, Idaho's trusted source for Custom Signs, Banners & Vehicle Wraps, today announced that it has been recognized by 3M and the UASG (United Applications Standards Group) as a 3M Certified Graphics Installation Company – the only company to achieve such distinction in Southern Idaho. The UASG is the country's leading group of professional graphic installers – proven and tested to be the best in the business and is the first organization of its kind to require decal installers to meet high standards of installation skill and professionalism. The UASG has worked with the 3M Commercial Graphics Division to administer the 3M Certified Graphics Installation Company program since 2000.
Fewer than 1% of sign and graphics companies throughout the United States hold the 3M Certified Graphics Installation Company certification. Companies with this distinction are recognized by 3M and UASG for not only their installation skills and knowledge but also sound business practices and accountability to a Code of Conduct. It provides a choice for consumers who want to trust their brand identity to a Graphics Installation company that has been professionally trained and certified demonstrating a commitment to providing the best graphics installation available.
Signs2U is locally owned and operated, using the highest-level technology by a highly trained staff with over 20 years of graphic design experience and sign production experience. The Signs2U's team makes it a point to continuously expand their knowledge of different materials and ideas which is passed on to the customer. Their mission has long been to keep a customers' brand and image ahead of the curve.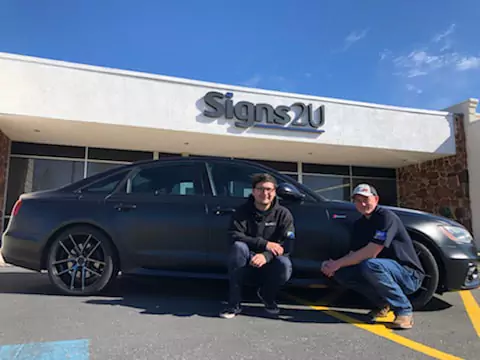 With a custom production facility, including state-of-the-art large format printing and finishing equipment; and oversized, climate-controlled garage bays for vehicle wrap installations, Signs2U is equipped to print and fabricate all types of signage including electrical signs, dimensional lettering, vehicle wraps and vinyl graphics. Being 3M certified is another step in their journey of providing the best possible service to their customers and adding to their successful portfolio.
Established in 1999 by leaders in the installation community, the UASG distinguished itself as being the first organization of its kind to require companies to meet a varied criteria to become members. The criteria include a high level of professionalism, a proven track record, and a high level of hands-on installation skill.  The screening process, by which companies are evaluated, was developed to give a fair and accurate assessment and eliminate any personal bias that might exist. Companies like Signs2U and their affiliation with 3M and the significance of the UASG means not just technical excellence but adhering to a code of conduct which puts the interest in confidentiality and fairness to customers and fellow members at the forefront of importance.
"Becoming a 3M Certified Graphics Installation Company has been a goal of Signs2U since our inception." Says Karen Warner, CEO, Signs2U, "3M and UASG set a very high bar for this designation, it is truly a testament to the hard-work, dedication and skill-level of our team."
To achieve this designation, Signs2U underwent a rigorous audit and installer testing process. UASG & 3M standards are the highest in the industry and are the benchmark for graphic installation excellence in fleet, full & partial wraps, interior & exterior environmental graphics including floor, rough textured walls, and virtually every other branding application. Signs2U joins other businesses listed on the UASG website and 3M's Commercial Graphics website. Companies from around the world check these sources first when looking for application professionals in their area.
In addition, Signs2U will now display The UASG and 3M Certified Graphics Installation Company logos which are recognized nationwide through strength of brand and credibility and is the only logo which notifies customers they are receiving the highest level of performance in the industry. Signs2U, and other companies like them, believe that consumers benefit from knowing they are receiving the best in customer care and production.
For more information about Signs2U, please visit www.signs2uboise.com or call (208) 345-7446.
######
About Signs2U  
Signs2U is Boise, Idaho's trusted source for custom signs, vehicle wraps and window, wall and floor graphics. Founded in 2007, Signs2U is a growing, innovative sign company focused on professionalism while maintaining a personal touch. Our mission is to provide the highest-quality products and exceptional service to our customers through innovation, creativity and the dedication of our entire team.
About 3M Certified Graphics Installation Program
Now in its 20th year, the 3M Certified Graphics Installation Company program continues to elevate the standards for graphics installation under the administration of UASG.  Companies with distinction are recognized by 3M and UASG for not only their installation skills and knowledge, but also their sound business practices.